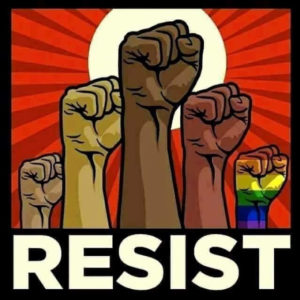 Welcome to The Peace Abbey Foundation website!

The mission of the Peace Abbey Foundation is to create and install public works of art that promote peace and nonviolence; and to administer and care for Abbey Interfaith Peace Chaplaincy, The Pacifist Memorial, The Animal Rights Memorial, Cremation Cemetery for Conscientious Objectors and the National Registry for Conscientious Objection. Throughout the year, the Foundation presents the Int'l Courage of Conscience Award at conferences and peace ceremonies and extends the impact of the Peace Seeds interfaith prayers for peace through their dissemination worldwide.
The Foundation supports grassroots efforts to link the many dimensions of the peace movement with a committed emphasis on human rights and animal rights. Central to our universalist approach is the premise that nonviolence is the most effective and long-term strategy in addressing the multitude of challenges that now threaten our increasingly imperiled planet.
FOUNDATION GOALS
To Educate: We conduct and sponsor programs and projects that promote a deeper understanding of the importance of service as a way of life. We exemplify this commitment to altruism through our decades-long affiliation with The Life Experience School for young adults with disabilities.
To link: We conduct and sponsor public events that promote understanding and mutual respect between people of different faith traditions and non-believers. We celebrate examples of artistic expression that elevate the ideals of compassion, cooperation, fairness and peace.
By Alison Bosma   MetroWest News: abosma@wickedlocal.com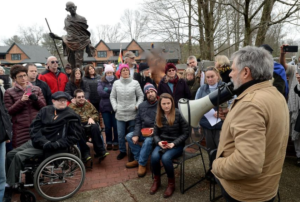 SHERBORN – As President Donald Trump's inauguration ceremony wrapped up Friday in Washington D.C., four people moved into a street in Sherborn to be arrested.
The arrests were part of a peaceful protest of Donald Trump's presidency, held at the Peace Abbey in Sherborn. Dozens attended the demonstration, including several with disabilities.
"I understand why people don't want to think about it," said Louise Coleman, who protested, but was not arrested, "but if you don't think about it, it doesn't change."
After a reading of grievances against Trump at the foot of a Gandhi statue, wheelchair-bound Maureen Gaynor led protesters to the street, her hand, cuffed to the Peace Abbey Foundation's "peace chain."
Fellow protesters held links of the Peace Chain and moved into the road, where state and local police waited, stopping traffic. Officers warned protesters to step back – at which point all except the four did so – gave the warning twice more, then arrested Gaynor and three others.
Protesters cheered, clapped, and sang as Gaynor was lifted into a Department of Corrections handicap van during her arrest.
"I'm here because Donald Trump made a speech about disabled people, and it really kind of hurt," Ian Murawski said, during the protest. "I feel if he will listen to us, this world will change for the better."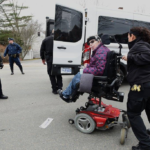 Grievances read aloud before the arrests included xenophobia, losing ground against climate change, disrespect of women and people with disabilities, immigration intolerance, and the dangers of nuclear power. As each grievance was read, a length of the Peace Abbey Foundation's peace chain was attached to a Gandhi statue.
Sherborn Police Chief Richard Thompson said Peace Abbey President Lewis Randa met with police prior to the demonstration. A tarp was even laid down over the mud between the grass and the road, making it easier for those in wheelchairs to cross onto a public way.
"We took them into custody without any incident," Thompson said, calling the protest "very peaceful." "(Randa) met with us about a week ago told us what his plans were, that he and some other folks were looking to protest the inauguration and the protest had to do with people who had certain disabilities."
Thompson said traffic wasn't backed up too far for the few minutes police blocked the road, estimating less than 20 cars in both directions.
Several protesters said events like this can make an impact if enough of them happen.
"We have to come out of our inaction," protester Dharam Singh said. "We've been lulled into a level of comfort by these years, and we have to come together."
The four arrested for disturbing the peace were: Maureen Gaynor, Courtland Woods, William Holcombe and Lewis Randa.