Message Board
Welcome to the Peace Abbey Foundation website!
The mission of the Peace Abbey Foundation is to create and install public works of art that promote peace and nonviolence; and to administer and care for Abbey Interfaith Peace Chaplaincy, The Pacifist Memorial, The Animal Rights Memorial, CO Hill Cremation Cemetery for Conscientious Objectors and the National Registry for Conscientious Objection. Throughout the year the Foundation presents the Int'l Courage of Conscience Award at conferences and peace ceremonies and extends the impact of the Peace Seeds interfaith prayers for peace through their dissemination worldwide.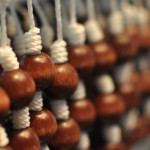 The Foundation supports grassroots efforts to link the many dimensions of the peace movement with a committed emphasis on human rights and animal rights. Central to our universalist approach is the premise that nonviolence is the most effective and long term strategy in addressing the multitude of challenges that now threaten our increasingly imperiled planet.
Oscar Romero Beatification
Oscar Romero – the Roman Catholic archbishop murdered during the 1980-92 civil war has been beatified at a ceremony in El Salvador attended by huge crowds.
It is the last step before Archbishop Romero is declared a saint. Celebrations in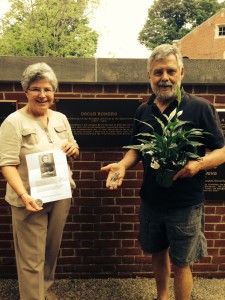 ElSalvador honored the life of slain Archbishop Oscar Romero, who was beatified on Saturday. Catholics paid tribute to the man who fought for the poor during the country's civil war.
He was shot dead by a sniper as he celebrated Mass in a hospital chapel on 24 March 1980.  No one has been prosecuted for the murder.  The beatification ceremony was presided over by Vatican envoy Cardinal Angelo Amato, who made a call for forgiveness.  "His preference for the poor was not ideological, but evangelical. His charity extended to his persecutors," he said. NPR Coverage.
(Above photo of Sr. Marcia Wiley and Lewis Randa during a special exchange of treasured items at the Pacifist Memorial on May 29th)