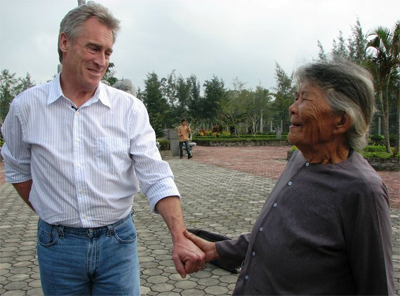 Sad News:  Courage of Conscience Award recipient,
Larry Colburn dies at age 67.
Welcome to The Peace Abbey Foundation website!

The mission of the Peace Abbey Foundation is to create and install public works of art that promote peace and nonviolence; and to administer and care for Abbey Interfaith Peace Chaplaincy, The Pacifist Memorial, The Animal Rights Memorial, Cremation Cemetery for Conscientious Objectors and the National Registry for Conscientious Objection. Throughout the year, the Foundation presents the Int'l Courage of Conscience Award at conferences and peace ceremonies and extends the impact of the Peace Seeds interfaith prayers for peace through their dissemination worldwide.
The Foundation supports grassroots efforts to link the many dimensions of the peace movement with a committed emphasis on human rights and animal rights. Central to our universalist approach is the premise that nonviolence is the most effective and long-term strategy in addressing the multitude of challenges that now threaten our increasingly imperiled planet.
FOUNDATION GOALS
To Educate: We conduct and sponsor programs and projects that promote a deeper understanding of the importance of service as a way of life. We exemplify this commitment to altruism through our decades-long affiliation with The Life Experience School for young adults with disabilities.
To link: We conduct and sponsor public events that promote understanding and mutual respect between people of different faith traditions and non-believers. We celebrate examples of artistic expression that elevate the ideals of compassion, cooperation, fairness and peace.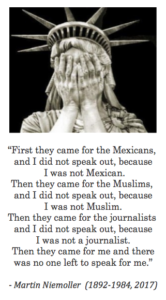 INAUGURATION DAY DEMONSTRATION IN SHERBORN
Dear Fellow Activists:
Join us on Inauguration Day at the Peace Memorial in Sherborn, MA at noon to express how you feel about the highest office in the land being held by someone who mocks people with disabilities and has sought to spread sexism, racism, xenophobia, hatred, fear and division in America.
Come and be part of the demonstration and demand that the new President respect people of all races, levels of ability, religious affiliation, sexual orientation and national origin.
Let our voices be heard. Stand up against authoritarianism and fascism.
INAUGURATION DAY DEMONSTRATION
As the Oath of Office of President of the United States is administered to Donald J. Trump in Washington, DC, Peace Chain List of Grievances will be read and the Peace Chain will be used on Main St. in front of the Gandhi Statue at Peace Memorial Park, Sherborn, MA. (Formerly the grounds of the Peace Abbey.)
Peace Chain List of Grievances
1. Immigration (Deportation, the Dream Act, etc)
2. Sexism (misogyny, sexual assault, vulgarity)
3. Racism (Birther, KKK, Black Lives Matter, Police Violence, anti-Semitism, Islamophobia)
4. Xenophobia (US-European Nationalism)
5. Healthcare (repeal of Affordable Health Care Act)
6. Refugee Crisis (Mexico, Syria, Europe, The Wall)
7. Gun Violence (Proliferation of guns in America, NRA)
8. Nuclear Weapons (Proliferation, dissemination, NATO)
9. Minimum Wage (Living wage movement)
10. Disability Rights (Insensitivity, Trump mocking of a disabled journalist)
11. Climate Change (Anti-science, environmental crisis, Kyoto Protocol, Paris Treaty)
12. Reproductive Rights (Repeal Roe vs. Wade, Planned Parenthood defunding, etc.)
Join us and say NO to the fascist direction electing Trump has taken America.
Daniel Berrigan  We are delighted to announce that the bronze bust of the late Fr. Daniel Berrigan, who was a dear friend of the Peace Abbey for many years has been completed and will soon be on display at the Peace Abbey Foundation Cottage in Millis, MA.  It joins the previously commissioned works by the Abbey that include statues of Mother Teresa, Mahatma Gandhi, Samantha Smith, Oscar Romero, Barack Obama and his maternal grandmother, Emily the Cow and the Courage of Conscience Award which is presented throughout the year.  The masterpiece was created by Lado Goudjabidze.