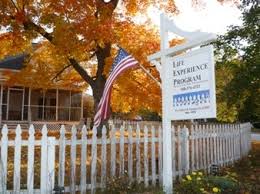 THE SPECIAL PEACE CORPS
Learn about the Special Peace Corps
at The Life Experience School
which is under the care of the
Peace Abbey Foundation.
MUHAMMAD ALI PROJECT
The Muhammad Ali Project seeks to exhIbit the cold cast bronze bust of the young boxer-turned-social-activist in boxing clubs, community centers, schools and colleges to promote his lifelong message of civil rights, nonviolence and conscientious objection.
In refusing induction into the armed services, he said the following: "Why should they ask me to put on a uniform and go ten thousand miles from home and drop bombs and bullets on brown people in Vietnam while so-called Negro people in Louisville are treated like dogs and denied simple human rights?
No, I am not going ten thousand miles from home to help murder and burn another poor nation simply to continue the domination of white slave masters of the darker people the world over. This is the day when such evils must come to an end. I have been warned that to take such a stand would put my prestige in jeopardy and could cause me to lose millions of dollars which should accrue to me as the champion.
But I have said it once and I will say it again. The real enemy of my people is right here. I will not disgrace my religion, my people or myself by becoming a tool to enslave those who are fighting for their own justice, freedom and equality.
If I thought the war was going to bring freedom and equality to 22 million of my people they wouldn't have to draft me, I'd join tomorrow. But I either have to obey the laws of the land or the laws of Allah. I have nothing to lose by standing up for my beliefs. So I'll go to jail. We've been in jail for four hundred years."
On April 28, 1967, boxing champion Muhammad Ali refuses to be inducted into the U.S. Army and is immediately stripped of his heavyweight title. Ali, a Muslim, cited religious reasons for his decision to forgo military service.
Born Cassius Marcellus Clay, Jr., in Louisville, Kentucky, on January 14, 1942, the future three-time world champ changed his name to Muhammad Ali in 1964 after converting to Islam. He scored a gold medal at the 1960 Olympic Games in Rome and made his professional boxing debut against Tunney Husaker on October 29, 1960, winning the bout in six rounds. On February 25, 1964, he defeated the heavily favored bruiser Sonny Liston in six rounds to become heavyweight champ.
On April 28, 1967, with the United States at war in Vietnam, Ali refused to be inducted into the armed forces, saying "I ain't got no quarrel with those Vietcong." On June 20, 1967, Ali was convicted of draft evasion, sentenced to five years in prison, fined $10,000 and banned from boxing for three years. He stayed out of prison as his case was appealed and returned to the ring on October 26, 1970, knocking out Jerry Quarry in Atlanta in the third round. On March 8, 1971, Ali fought Joe Frazier in the "Fight of the Century" and lost after 15 rounds, the first loss of his professional boxing career. On June 28 of that same year, the U.S. Supreme Court overturned his conviction for evading the draft.
At a January 24, 1974, rematch at New York City's Madison Square Garden, Ali defeated Frazier by decision in 12 rounds. On October 30 of that same year, an underdog Ali bested George Forman and reclaimed his heavyweight champion belt at the hugely hyped "Rumble in the Jungle" in Kinshasa, Zaire, with a knockout in the eighth round. On October 1, 1975, Ali met Joe Frazier for a third time at the "Thrilla in Manila" in the Philippines and defeated him in 14 rounds. On February 15, 1978, Ali lost the title to Leon Spinks in a 15-round split decision. However, seven months later, on September 15, Ali won it back. In June 1979, Ali announced he was retiring from boxing. He returned to the ring on October 2, 1980, and fought heavyweight champ Larry Holmes, who knocked him out in the 11th round. After losing to Trevor Berbick on December 11, 1981, Ali left the ring for the final time, with a 56-5 record. He is the only fighter to be heavyweight champion three times. In 1984, it was revealed Ali had Parkinson's disease.