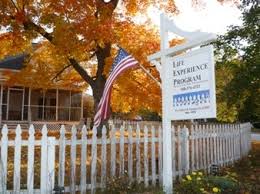 THE SPECIAL PEACE CORPS
Learn about the Special Peace Corps
at The Life Experience School
which is under the care of the
Peace Abbey Foundation.
In June of 1992, the Peace Abbey collection was assembled to create the new UMASS Boston Peace Room with the entire archives from the Peace Abbey in Sherborn.  Below are photos of the room with the extensive library and holdings gifted to the university.  The collection is held at the Healey Library at UMB under the care of the Archives and Special Collections Department.
UMB video of presentation of Peace Abbey holdings.
(IMPORTANT:  To schedule a visit to the Peace Abbey collections at UMB, be sure to call the below number as the holdings may have been moved to another room or building.)
University Archives and Special Collections
Joseph P. Healey Library
University of Massachusetts Boston
Boston, MA 02125 (617); 287-5944
E-mail: library.archives@umb.edu
The mission and history of the university guide the collecting activities of University Archives and Special Collections. The department gathers material that is complementary to our neighboring archival institutions, the Massachusetts State Archives and the John F. Kennedy Library. The university's urban mission and strong support of community service is reflected in the department's collections of records of urban planning, social action, alternative movements, and community organizations. Archives and Special Collections has also built collections to support student and faculty research interests. Additionally, the location of the campus in the Dorchester section of Boston has prompted the department to make available sources for the study of Dorchester history.