Welcome to The Peace Abbey Community website!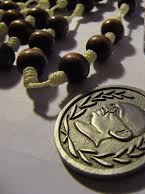 The mission of the Peace Abbey Foundation is to create and install public works of art that promote peace and nonviolence; and to administer and care for Abbey Interfaith Peace Chaplaincy, The Pacifist Memorial, The Animal Rights Memorial, Cremation Cemetery for Conscientious Objectors and the National Registry for Conscientious Objection. Throughout the year, the Foundation presents the Int'l Courage of Conscience Award at conferences and peace ceremonies and extends the impact of the Peace Seeds interfaith prayers for peace through their dissemination worldwide.
We conduct and support programs that bring together and promote the cooperation of people of different faith traditions and non-theists as well. We do this in the spirit of the 1986 International Day of Prayer for World Peace, as celebrated that year by religious leaders from around the globe in Assisi, Italy.

The Foundation supports grassroots efforts to link the many dimensions of the peace movement with a committed emphasis on human rights and animal rights. We recognize these two dimensions of intrinsic rights as inextricably interconnected, just as social and economic justice requires environmental sustainability and deep respect for the biosphere.
Central to our universalist approach is the premise that nonviolence is the most effective and long-term strategy in addressing the multitude of challenges that now threaten our increasingly imperiled planet.
FOUNDATION GOALS
To Educate: We conduct and sponsor programs and projects that promote a deeper understanding of the importance of service as a way of life. We exemplify this commitment to altruism through our decades-long affiliation with The Life Experience School for young adults with disabilities.
To link: We conduct and sponsor public events that promote understanding and mutual respect between people of different faith traditions and non-believers. We celebrate examples of artistic expression that elevate the ideals of compassion, cooperation, fairness and peace.
To Beautify: We commission and install works of art that express the sacredness of life and the power of pacifism and nonviolence. Accordingly, we support efforts that employ the arts in fostering social justice and peace.
To Participate: We conduct and support programs and projects that further an understanding of the many applications of Gandhian nonviolence and civil disobedience. Accordingly, we initiate, support and participate in peace and justice demonstrations and protests. Read more.

---
The Global Pandemics Stonewalk Project welcomes bereaved families, spouses, and friends of those who died from COVID-19 or AIDS to share their grief and loss by placing flowers, a photo or small stone on the international pandemics stone and by helpIng pull the one-ton memorial stone to its next scheduled public viewing location.  The stone will be part of the National Week of Mourning.  It presently is at the Salvation Army in Central Square, Cambridge.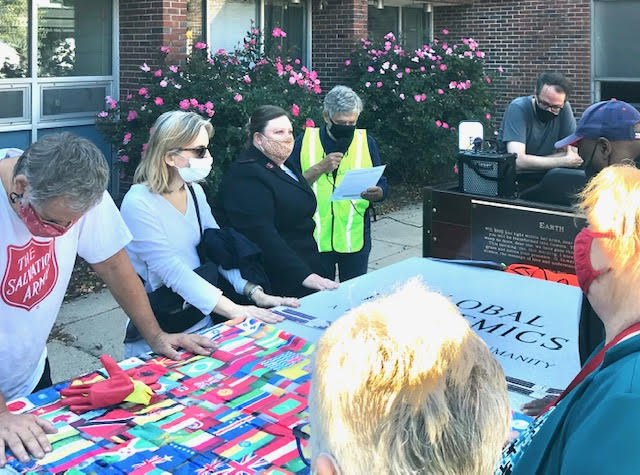 Plans are underway for a Stonewalk that commemorates VICTIMS OF PANDEMICS WORLDWIDE: A Monument to Loss – A Touchstone for Humanity.   This Stonewalk will offer a traveling, international touchstone that acknowledges the many ways people have been victimized by the COVID -19 (illness, death, job loss, foreclosures, bankruptcies, canceled events, etc.) and the extraordinary contributions and sacrifices made by healthcare and essential service workers throughout the world. 
The Peace Abbey will be adapting the prior focus of innocent victims of war to equally innocent victims of pandemics worldwide, since the dawn of human history to this recent COVID -19.  Pandemics have swept throughout the world claiming millions upon millions of lives and shaped human history in their wake, as only wars have.
New bronze plaques at The Pacifist Memorial Fall 2020 Installations  TBA

Richard Gregg  Fully sponsored by John Saltmarsh, John Wooding & friends
Helen Keller  Fully sponsored by Stephanie Greenish and Acropolis Boston
Pete Seeger  Fully sponsored by Tim and Jane McHale and the Boston Minstrel Singers
Barry Crimmins  Sponsorship in progress by Jimmy TIngle and admirers of Crimmins
Paramhansa Yogananda  Fully sponsored by the Self Realization Fellowship
John Lewis Fully sponsored by Jill MacGlafin

Contact us if you'd like to become a sponsor:  lewismranda@gmail.com