Welcome to The Peace Abbey Community website!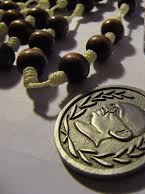 The mission of the Peace Abbey Foundation is to create and install public works of art that promote peace and nonviolence; and to administer and care for Abbey Interfaith Peace Chaplaincy, The Pacifist Memorial, The Animal Rights Memorial, Cremation Cemetery for Conscientious Objectors and the National Registry for Conscientious Objection. Throughout the year, the Foundation presents the Int'l Courage of Conscience Award at conferences and peace ceremonies and extends the impact of the Peace Seeds interfaith prayers for peace through their dissemination worldwide.
We conduct and support programs that bring together and promote the cooperation of people of different faith traditions and non-theists as well. We do this in the spirit of the 1986 International Day of Prayer for World Peace, as celebrated that year by religious leaders from around the globe in Assisi, Italy.  Read more.
Plans are underway to find a permanent home for the memorial stone for civilian war casualities in Washington DC.

Stonewalk 1999 began with the one-ton granite stone which was placed on the grounds of The Peace Abbey in 1994 where it was unveiled at a ceremony which Muhammed Ali participated in. The stone is a memorial to those people around the world who tragically lost their lives in the course of military conflicts.