Welcome to The Peace Abbey Community website!
A proposed ground plaque near Civilian Casualties Memorial.

Now is the time for this stone to find its way to our Nation's Capital

Congressional Record (Bound Edition), Volume 145 (1999)
IN HONOR OF STONEWALK AND CIVILIANS KILLED IN WAR
HON. JOHN W. OLIVER of Massachusetts in the House of Representatives, Thursday, August 5, 1999, Mr. OLVER. Mr. Speaker, I rise today to honor those civilians who have lost their lives because of war. When confli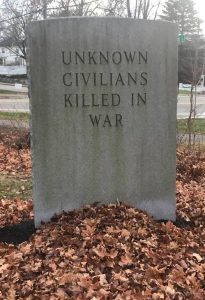 ct erupts, too often civilians pay a bitter price. I rise in remembrance so that the many women, men, and children who have been forced to yield their lives are not forgotten. But I am not the only one who has chosen to remember civilians killed in acts of war. I am joined today by a dedicated network of Peace Abbey volunteers, who have just concluded a historic journey from Sherborn, Massachusetts to Arlington National Cemetery in Washington, DC. This journey is called "Stonewalk," and judging from its name, it's clear that the volunteers did not arrive in Washington empty-handed. In fact, they managed to pull a 2000 pound memorial stone the entire way. The success of this feat is a tribute to past and present victims of war. Stonewalk involved volunteers from nearly all of the Atlantic states. The journey lasted 33 days and covered roughly 480 miles. The one-tone stone is appropriately named the Memorial Stone for Unknown Civilians Killed in War. It will be presented as a gift to Arlington National Cemetery today, the fifty-fourth anniversary of the bombing of Hiroshima on August 6, 1945. Prior to Stonewalk, an identical memorial stone was unveiled by famed boxer Muhammad Ali and visited by over 5,000 people.
While the story behind this stone is courageous, the truth behind it is sad and bewildering. At this very moment, bloody conflicts around the world are costing hundreds, perhaps thousands, of civilian lives per day. The toll on victimized families in Kosova, Colombia, or Sierra Leone is no less painful than that placed on the many families here in the United States who have lost relatives to war. As a world and a nation, we have much work to do to resolve our conflicts peacefully and to avoid the senseless death of civilians. Mr. Speaker, I commend Peace Abbey for memorializing the civilians– the women, men, and children–who have died throughout the history of war.
Gandhi's 152 Birth Anniversary at The Pacifist Memorial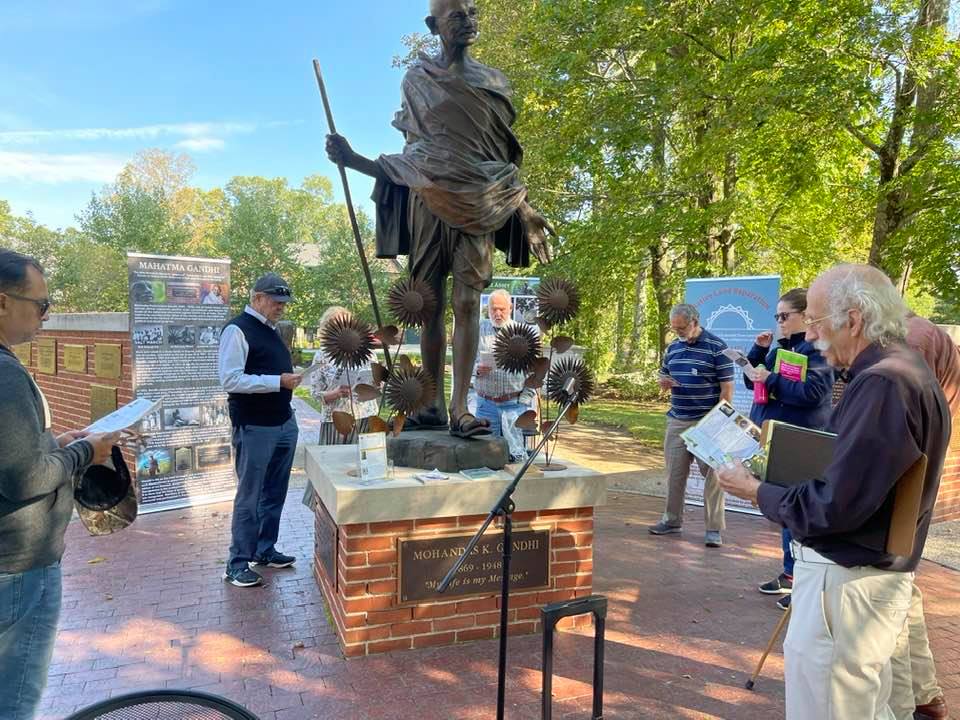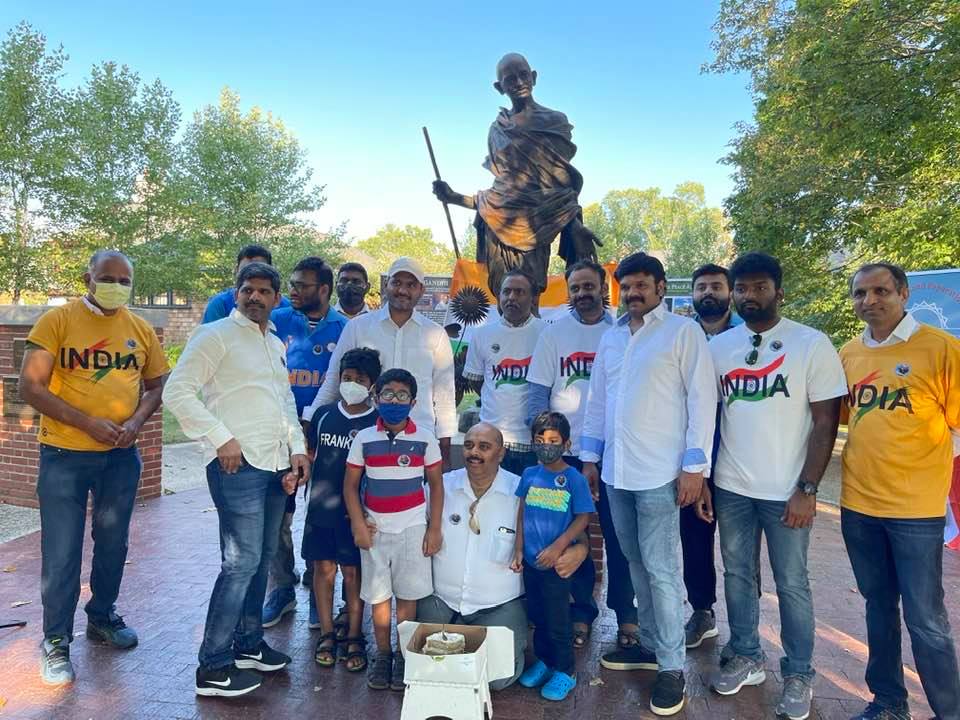 Wonderful gathering on October 2nd at Gandhi statue on Gandhiji's 152 birth anniversary. First group to attend were long time Abbey friends and supporters; the 2nd group were members of the Indian community in the Boston area and Connecticut. Everyone had the opportunity to speak about why Gandhi was important to them in the course of their lives. One individual stated that his teachings, as employed over time, may have prevented a third World War. His teachings, in any case, certainly empowered people worldwide to use nonviolent methods of problem solving. For this the world is deeply indebted to his memory.
PEACE ABBEY HONORS PEACEMAKERS
Peace Chaplain Dot Walsh presents the Int'l Courage of Conscience Award to Rev. Mary Margaret Earl
By James Kinneen
Hometown Weekly ReporterSunday afternoon was a busy one at Sherborn's Pacifist Memorial, as the day featured the dedication of new bronze plaques in honor of John Lewis, Helen Keller, Julian Bond, Richard Gregg, Pete Seeger, Barry Crimmins, Paramahansa Yogananda, and Britt and Nan Pendergrast, the presentation of the International Courage of Conscience Award to Senior Minister and Executive Director at the UU Urban Ministry in Boston Mary Margaret Earl, the installation of The World Peace Time Capsule which is scheduled to be opened in the year 2121 and the blessing of the Global Pandemics Bereavement Stone and Carriage.
While day was unsurprisingly somber given the many references to COVID-19, wars, and violence overall, after the ceremonial turning of the rain stick to begin the ceremony, emcee and former Courage of Conscience Award winner Jimmy Tingle did crack some jokes to lighten the mood. Tingle told a story about the blizzard of 2015 when after hours of shoveling a woman stole his spot. Explaining how he blew up at the woman, Tingle screamed "I don't care if you are my wife, that's my spot!" which drew some laughs. He used the story to connect to a lesson about peacemaking beginning at home.
On a more serious note, Lewis Randa (who did joke about how many times he and a former student have been arrested together) talked about the lesser-known JFK quote, "War will exist until that distant day when the conscientious objector enjoys the same reputation and prestige that the warrior does today," and how that inspired the creation of a memorial celebrating those who seek to show that "peace is not only possible but possible through peaceful means," and that it is "better to endure violence in pursuit of peace than to inflict it."  Read more.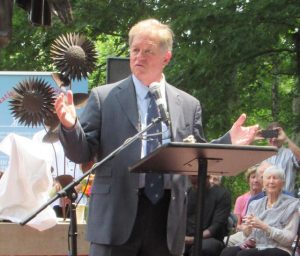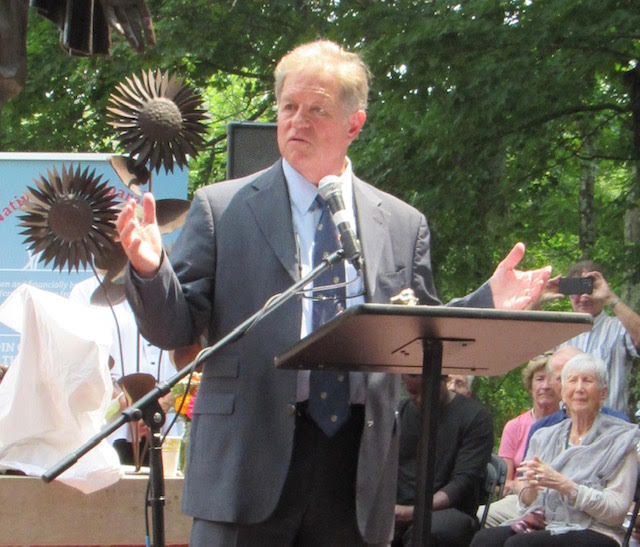 Courage of Conscience Award recipient and emcee Jimmy Tingle leads the ceremony honoring 9 remarkable peacemakers.