Welcome to The Peace Abbey Community website!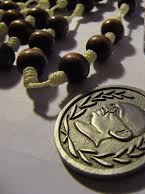 The mission of the Peace Abbey Foundation is to create and install public works of art that promote peace and nonviolence; and to administer and care for Abbey Interfaith Peace Chaplaincy, The Pacifist Memorial, The Animal Rights Memorial, Cremation Cemetery for Conscientious Objectors and the National Registry for Conscientious Objection. Throughout the year, the Foundation presents the Int'l Courage of Conscience Award at conferences and peace ceremonies and extends the impact of the Peace Seeds interfaith prayers for peace through their dissemination worldwide.
We conduct and support programs that bring together and promote the cooperation of people of different faith traditions and non-theists as well. We do this in the spirit of the 1986 International Day of Prayer for World Peace, as celebrated that year by religious leaders from around the globe in Assisi, Italy.

The Foundation supports grassroots efforts to link the many dimensions of the peace movement with a committed emphasis on human rights and animal rights. We recognize these two dimensions of intrinsic rights as inextricably interconnected, just as social and economic justice requires environmental sustainability and deep respect for the biosphere.  Read more.
ANNE SULLIVAN
HELEN KELLER EXHIBIT
Sunday, December 1, Community Church of Boston at 2 PM
The Anne Sullivan and Helen Keller Traveling Sculpture Exhibit seeks to promote a heightened appreciation of the relationship between these two extraordinary women in history.
The exhibit's primary focus is to showcase the vital role teachers have played in our lives. This is addressed through the two queries in text and braille on the base of the statue:  What did your teacher help you see that was once invisible?   What did your teacher help you hear that was once silent?
Exhibit strives to:
Inspire further interest in the lives of Anne Sullivan and Helen Keller
Present information about the extraordinary dynamics between these two individuals
Elevate the importance of teachers in our lives
Encourage opportunities to discuss particular teachers in our lives
Highlight the importance of accepting differences
Promote tolerance, diversity, and inclusion
Serve as an extension to school and art center projects and programming
Place exhibit in a broad range of community locations
Educate the public about the contributions of other peacemakers whose statues are exhibited as part of the Public Peace Art Program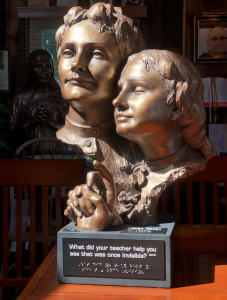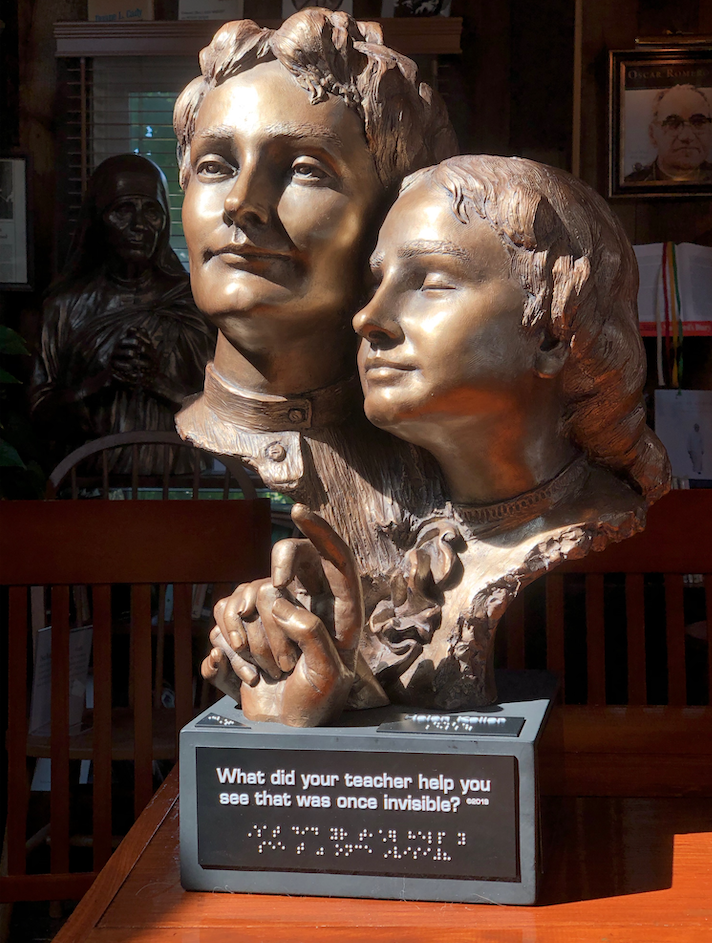 The goal of the Public Peace Art Program is to present to the general public original, commissioned statues of peacemakers who have inspired visionary thinking and a commitment to peaceful social change.  Both permanent and temporary (traveling) placement of statues is under the care of The Peace Abbey Foundation.
Cost:   Free of charge.  Contributions are welcome.   The Peace Abbey is a nonprofit, tax-exempt, charitable organization founded in 1988.  Those interested in underwriting this exhibit may contact us at admin@peaceabbey.org.  Read more.