The original bronze statue of Mahatma Gandhi is the central figure of art at the Pacifist Memorial and has attracted thousands of visitors over the years.  Each year on October 2nd, his birth anniversary, people come from near and far to honor Gandhi and find inspiration in his words and those of the many other pacifists who are remembered here.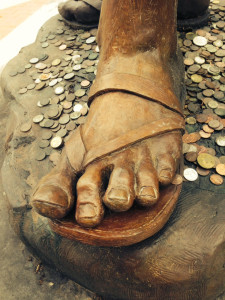 Dozens of visitors daily walk the walls of the Pacifist Memorial, reading the quotes from men and women who lived their lives as pacifists and activists. Some names will be familiar such as Einstein, Gandhi, Margaret Mead, Dr. King and Jesus, while others will be less familiar and offer an opportunity for visitors to learn more about nonviolence and the rich American tradition of pacifism.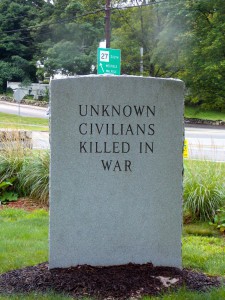 Part of the Pacifist Memorial is a simple stone, engraved with the words "Unknown Civilians Killed in War" which commemorates those whose lives were lost, unrecorded, the collateral damage of military action. By this stone we honor the civilian men, women and children (and animals) who perished in wars both remembered and forgotten.