PEACE AND JUSTICE ARCHIVES AT UMASS BOSTON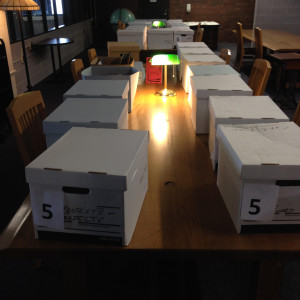 Peace Abbey Archives and Permanent Collection
The Peace Abbey and The Life Experience School gifted over 40 years of archival materials to the University of Massachusetts Boston in July of 2012.  Twenty-six boxes of documents, photographs, CDs, videos, correspondence, newspaper articles, personal effects of notable pacifists and Courage of Conscience Award materials are available for peace and justice research and for public viewing at the Healey Library, University of Massachusetts Boston.
Visit the Peacemakers Table, the protest model of the 9 foot Gandhi Statue and the busts of Oscar Romero, Samantha Smith, Gandhi and Emily the Cow at UMB.
The archival holdings are in the following categories:
Peace Abbey Letters and Correspondence
Clip Board Notes and Messages
Display Case Materials
Courage of Conscience Awards
Emily the Cow
The Pacifist Memorial
Peace Pilgrim
Newspaper articles
Photographs
University Archives and Special Collections is open for onsite research Monday – Friday, 10:00 am to 4:00 pm. Please contact library.archives@umb.edu to schedule an appointment or to request reference assistance, and consult our online collections and Finding Aids at http://OpenArchives.umb.edu.
THE PEACE ABBEY FOUNDATION | 16 Lavender Street, Millis, MA 02054 | 508.655.2143 | admin@peaceabbey.org
Promoting Peace, Justice and Cruelty-Free Living