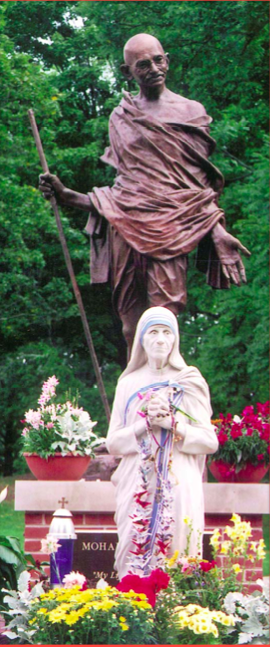 Mahatma Gandhi and Mother Teresa are two of the great personalities known worldwide for their respective outstanding principles – non-violence and peace. Both devoted their lives for the betterment of humanity by helping people who were in greatest need. People all over the world are inspired by their philosophy of life and strive to follow in their footsteps of compassion, service and love.
*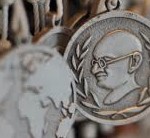 The mission of the Peace Abbey Foundation is to create and install public works of art that promote peace and nonviolence; and to administer and care for Abbey Interfaith Peace Chaplaincy, The Pacifist Memorial, The Animal Rights Memorial, Abbey Cremation Cemetery for Conscientious Objectors and the National Registry for Conscientious Objection.  Throughout the year, the Foundation presents the Int'l Courage of Conscience Award at conferences and peace ceremonies and extends the impact of the Peace Seeds interfaith prayers for peace through their dissemination worldwide.
We conduct and support programs that bring together and promote the cooperation of  people of different faith traditions and non-theists as well. We do this in the spirit of the 1986 International Day of Prayer for World Peace, as celebrated that year by religious leaders from around the globe in Assisi, Italy.

The Foundation supports grassroots efforts to link the many dimensions of the peace movement with a committed emphasis on human rights and animal rights. We recognize these two dimensions of intrinsic rights as inextricably interconnected, just as social and economic justice require environmental sustainability and deep respect for the biosphere. Central to our universalist approach is the premise that nonviolence is the most effective and long-term strategy in addressing the multitude of challenges that now threaten our increasingly imperiled planet.
FOUNDATION GOALS
To Educate: We conduct and sponsor programs and projects that promote a deeper understanding of the importance of service as a way of life. We exemplify this commitment to altruism through our decades-long affiliation with The Life Experience School for young adults with disabilities.
To link: We conduct and sponsor public events that promote understanding and mutual respect between people of different faith traditions and non-believers. We celebrate examples of artistic expression that elevate the ideals of compassion, cooperation, fairness and peace.
To Beautify: We commission and install works of art that express the sacredness of life and the power of pacifism and nonviolence. Accordingly, we support efforts that employ the arts in fostering social justice and peace.
To Participate: We conduct and support programs and projects that further an understanding of the many applications of Gandhian nonviolence and civil disobedience. Accordingly, we initiate, support and participate in peace and justice demonstrations and protests.