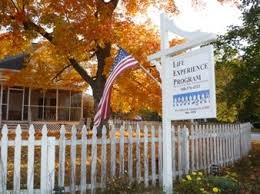 THE SPECIAL PEACE CORPS
Learn about the Special Peace Corps
at The Life Experience School
which is under the care of the
Peace Abbey Foundation.
Mother Teresa:  "My prayer is that The Life Experience School continues to prepare its children to become peacemakers in our troubled world – the true peace that comes from loving and caring and respecting the rights of everyone – my brother, my sister."
Fr. Daniel Berrigan:  " I wish I had started a place like this. The students are not being trained to be soldiers or corporate rip-off artists. We could use a few more thousand places like this."
Rosa Parks:  "I am very happy to know of the great work you are doing at The Life Experience School that young people might be able to feel themselves useful and helpful to people in need."
Senator Edward Kennedy:  "You are doing an outstanding job working together to help other people. You are certainly carrying on my brother's (RFK) legacy and exemplify his ideals of community service."
Diana Chapman Walsh, President, Wellesley College: "We are two very different institutions, Wellesley is a college with a huge endowment and The Life Experience School is a little teeny place with enormous spirit.  It seems like a wonderful combination."
Fr. Francis Soucy, OFM:   "The Life Experience School has been closely associated with St. Francis of Assisi, because what the school is doing is very much what St. Francis was doing."
THE LIFE EXPERIENCE SCHOOL / SPECIAL PEACE CORPS – Founded in 1972

PEACE ABBEY ROOTS
Videos at bottom of page
The Life Experience School, the parent organization of the Peace Abbey, now in its 43rd year, continues to provide individuals with learning challenges, complicated by neurological disorders or development disabilities with opportunities to be actively involved in the community.  Whether through vocational training or altruistic involvement in the Special Peace Corps, members are engaged in meaningful activities that help them secure their place in society.
The spirit of commitment and concern which characterized the decade of the sixties gave birth to The Life Experience School and its programs and projects for young adults with developmental disabilities.  The School is humbly dedicated to the memory of Robert Francis Kennedy and Martin Luther King, Jr., the two mentors of its founder.  The Peace Abbey was established by The Life Experience School in 1986 and remains the heart and soul of all that the Peace Abbey Foundation endeavors to do.
The work of The Life Experience School has received increasing attention nationally and – more recently – internationally.   Participants at the School and Peace Abbey Award ceremonies over the years include: Mother Teresa, The XIV Dalai Lama, Thich Nhat Hanh, Richie Havens, Martin Luther King III, Peter, Paul and Mary, Daniel Berrigan, Maya Angelou, Pete Seeger,  Arun Gandhi, Dr. Benjamin Spock, Rosa Parks and many others.
What has attracted the attention of these and thousands of others to the work carried on at The Life Experience School/Program over four decade is the creation of an environment that makes it possible for its members to transcend their apparent disabilities. At LES, disabilities and difficulties in life are seen as personalized growth opportunities which nurture inner development and uniquely equip each person to contribute to works of peace in their community.
"Every one of you will ultimately judge yourself on the effort you have contributed to building a New World Society, and the extent to which your ideals and goals have shaped that effort."
– Robert Francis Kennedy
Learn more about the Life Experience School.
Hallmark special segment on the Peace Abbey and Life Experience School.
Civil disobedience to remove the "R" word from State agency leads to arrests.
Mother Teresa visits Life Experience School in 1988.
Brochure of Life Experience School.
A place where the ideals of the sixties live on!