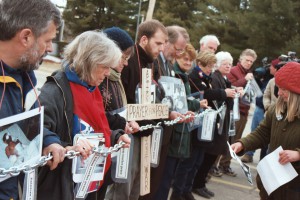 Era of war pinches a place devoted to peace
SHERBORN — The Peace Abbey, born of a pacifist's dream 19 years ago, has brought the inner hum of meditation and the occasionally harsh spotlight of international attention to this small, affluent town.
It is a place where a conspicuous bronze statue of Gandhi and a memorial to a runaway cow have prompted double-takes from motorists and passersby. It is also a multifaith retreat that Mother Teresa has visited, as have Muhammad Ali, the poet Maya Angelou, nuns of the Dalai Lama , and thousands of people seeking spiritual refreshment within the context of political engagement and peace activism.
"For its entire existence," Randa said, the Abbey "has been operating on a wing and a prayer.".
"Quite frankly, we became increasingly controversial in the eyes of many, and the funding dried up," he said in an interview in the Abbey.
"I would hate to see them go," said Selectman Christopher Peck. "I do think they represent the good side of town."
Not all Sherborn residents have felt so kindly. When the Gandhi statue was erected in 1993, next to a town war memorial, some townspeople complained that the sculpture was an affront to the community's veterans.
But now, Peck said, he never hears such criticism. "I haven't heard any negative comments about the statues," Peck said.
Founded by Randa after a visit by Mother Teresa in 1988, the Abbey has provided a setting filled with symbols and texts from 12 major faiths, including Christianity, Islam, and Zoroastrianism. The Abbey organizes workshops on pacifism, conducts weekly meditation services, and even provides an on-site cemetery for the cremated remains of conscientious objectors.
Five times a day, a Muslim call to prayer sounds for two minutes from the grounds of the Abbey. The tape-recorded call is sung by Yusuf Islam, a convert perhaps better known as the former pop singer Cat Stevens, and can be heard by nearby residents and passersby.
But even in a liberal state like Massachusetts, Randa said, the Abbey's antiwar work appears directly tied to an evaporation of large contributions to the institution. Ironically, the number of smaller donations, in the form of $5 and $10 contributions has increased.
"If you're walking the walk and you can't pay the bills, it's somebody else's turn," Randa said.
NATIONAL REGISTRY FOR CONSCIENTIOUS OBJECTION
Are you a Conscientious Objector or thinking of becoming one?
Download this packet for COs to learn more about how to get involved in the peace movement and read up on the history of Conscientious Objection in the United States.
Interested in bringing the National Registry for Conscientious Objection to your University, Campus group, or Community Organization? Download this packet for organizers to learn how to get a National Registry for Conscientious Objection for your organization. Along with the continuous addition of registries amongst college campuses in the United States, we are also working on outreach to high school students. If you are a parent, educator, or student and are interested in working on promoting nonviolent lifestyles for youth, request that the Registry be brought to your school.
If you are thinking of bringing the registry to your organization or have questions about becoming a CO, please contact the Abbey at info@peaceabbey.org..
The National Registry for Conscientious Objection was created at The Peace Abbey following the war in the Persian Gulf in early 1991. The National Registry provides men and women of all ages with an opportunity to register their objection to personal, national, and international violence.
As a concept, conscientious objection was co-opted by the military who gave itself the power to grant or withhold official status as a "C.O." The National Registry reclaims the notion of conscientious objection and returns it to its original meaning as a way of life (rather than a military or governmental designation). Conscientious objection is not the property of generals, to be handed out or withheld according to the judgment of draft boards. Objection to violence and courage of conscience are characteristics of a life committed to peace.
The National Registry is a national campaign to promote peacemaking as a practical ideal: a way of living in the present that represents our best hope for the future. It seeks to inspire peace and justice in society by inviting peacemakers everywhere to "register" their conscientious objection to violence, and in so doing, to share with others their commitment to a peaceful world.
The intent of The National Registry for Conscientious Objection is to emphasize one's absolute dedication to peaceful living and to the peaceful resolution of conflict. It is only by striving for perfection that we approach perfection. Likewise, it is only by committing ourselves absolutely to peaceful living that peace will, in fact, prevail, in our lives and on the planet.
Signing the Registry
We welcome you to The Peace Abbey to sign The National Registry for Conscientious Objection in person and join us in this initiative for peace. Or you can download the National Registry form and send the signed original back to The Peace Abbey, PO BOX 216, Sherborn, MA 01770-0216. We encourage you to keep a copy for your personal records, perhaps framed and displayed as a sign of your commitment to peace.
It is fitting that the pacifist be bold in the knowledge that he or she (however unworthy) is with the prophets, and his or her inquisitors (however worthy) are speaking for the dead past out of which humankind is creeping. It is not right that the advocates of love should apologize or flinch.
-Handbook for Conscientious Objectors Eighth Edition, 1965
"War will exist until that distant day when the conscientious objector
enjoys the same reputation and prestige that the warrior does today."
President John F. Kennedy