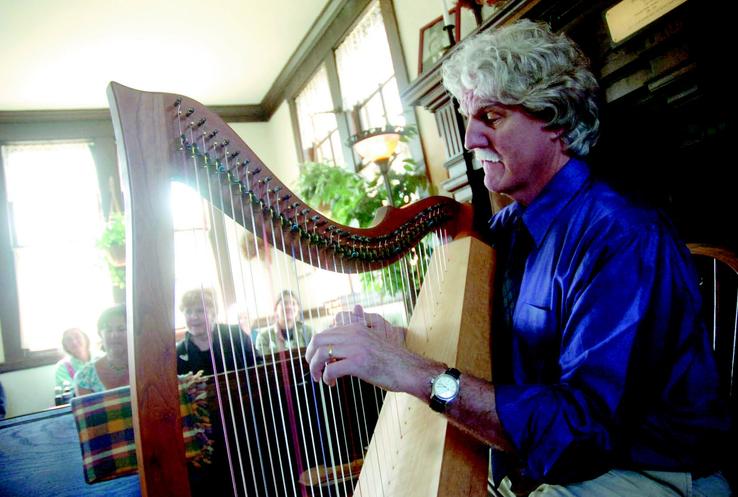 By Bev Wax
Dover-Sherborn Press photo by Sean Browne

This year's sixth annual spring concert at the Peace Abbey in Sherborn on April 17 had a special meaning. Facing possible foreclosure, the money raised will go into trying to save the Abbey.
There is some positive news for the Abbey. Founder Lewis Randa reports on the Abbey's website:
"Great News! With a single donation from the family of a former student, over 1/3 of the schoolhouse mortgage was paid off, leaving just $38,000 owed to the bank. They gave $1,000 for each year of their daughter's life in appreciation and love. Pass the word as we move forward to retire the Schoolhouse debt."
Before the concert, many visitors toured the Abbey's grounds outside enjoying the marvelous spring weather. And from the moment the performance began inside the Abbey's conference center, concert-goers were enthralled with Philip Boulding's exquisite and often quite moving musical selections played on a Celtic harp
Dot Walsh, Program Coordinator for the multifaith retreat center, introduced Philip of "Magical Strings" who usually performs with his wife Pam, a musician who plays the hammered dulcimer. Walsh explained that Pam was recovering from pneumonia in New Hampshire.
She sent out best wishes to her and also acknowledged Elise Boulding, Philip's mother, who passed away last June in Needham at age 89.
The Peace Abbey dedicated the peacemaker's table in her name along with showcasing her many awards as a sociologist, pacifist feminist and scholar in a glass bookcase. Her professor's robe hung in the back of the room next to the case; a testament of her work to establish the academic field of peace studies.
Philip began by telling the audience, "I hope to do justice to 'Magical Strings' as a solo performer."
He went on to say that they would hear a medley of pieces that they might not ordinarily hear. For approximately 20 years, "Magical Strings" has toured the world playing their distinctive blend of not only traditional Celtic music, but also many original compositions gleaned from the Bouldings' life experiences.
Philip set the concert in motion with time-honored Scottish harp music from the 1700s. He continued with an original piece that he composed for a friend's wedding on Vancouver Island called "Celestial Winds." He then played a medley of his favorite Irish jigs.
"Now I'd like to take you in the opposite direction," Boulding said.
He mesmerized the standing room-only crowd with music that he wrote in Hawaii. There he discovered that the music from the tropical islands was not only meant for the Hawaiian slack key guitar, but for the harp.
He began by giving the audience a taste of a poem he wrote on the island of Maui. He then played a piece, "Dance of the Wind Spirits" that was inspired by the couple's trip to the island. He also credited Keola Beamer, one of Hawaii's premier singer/songwriters, arrangers, composers and master of the Hawaiian slack key guitar.
For the piece, he also picked up the hammered dulcimer that was on the floor next to him. Philip has been a professional musician for 25 years, receiving training at the Boston Conservatory and the University of Washington's Ethno-Musicology department.
Philip went back to plucking the strings on the harp made with cherry and maple wood that he borrowed from one of his customers. He has been building the instruments since 1971 and develops harps for tone, playability, and economy.
"Haydn's Lullaby" was written for his most recent grandchild. Two of his six grandchildren, Margaret and Bridget, were in sitting in the front row with his son, Marshall Williams, and his wife Abigail. He mentioned to his well-behaved granddaughters that he would play their lullabies too that day but "there was too much music and too little time."
Philip went on to perform an original piece with "ethereal harmonies" that he heard while listening to the wind on a trip to Ireland.
"I felt bold enough to improvise with the wind," he said.
He continued with a few compositions from the Irish harpist-composer, O'Carolan, who died in 1738. Philip explained that even on his deathbed, he called for his harp and composed "O'Carolan's Farewell to Music."
After taking the audience back to the tropics for a bit, Philip recited a poem he had written for his mother, Elise. Earlier in the concert, he mentioned that after he had written "Haydn's Lullaby" she had looked sad and contemplative, telling him, "I wish you would write me a lullaby."
He did so and before her death, she finally heard the lullaby she had requested. He also performed the song for his sister, Christie, who had recently died "from a broken heart" after losing her husband to cancer.
He ended by thanking the audience "for sharing this experience with me … and I want to close the concert on a lively and joyous note."
He played his favorite melody of jigs and with an audience member's request, he later picked up a child's toy accordion he had brought along to play a selection of "Irish polkas."
After quite a bit of handclapping with the upbeat music, the audience gave Philip a standing ovation.
Afterwards, Philip briefly mentioned the Peace Abbey's financial difficulties, originally owing approximately $300,000 that has put the property in jeopardy of foreclosure. Walsh explained that they were working hard to rectify the situation because Magical Strings has to "keep coming back year after year."
She was especially encouraged after attending Saturday's annual spring conference by the New England Studies Association with keynote speaker, Tina Clarke. Clarke has been an advocate, educator, consultant, and director of nonprofit programs since 1985. She trains leaders in strategic planning, fundraising and organizational leadership.