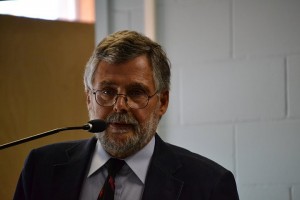 By Hope Benne and Van Pham
Dover-Sherborn — Another UN International Day of Peace is upon us — Wednesday, Sept. 21 — affording an opportunity to celebrate a vision dating far back in history. Many anthropologists now believe that the earliest humans who roved from place to place as hunters and gatherers were peaceful.
Aside from an occasional act of aggression or murder, they found enough food and had no reason to compete or go to war. Cooperation and sharing were necessary for survival. Moreover, primatologists' research now indicates that kindness and compassion even exist among our primate relatives, and these traits were passed down to humans in our evolutionary path.
Therefore, peace has always been one of humanity's main endeavors because it encompasses security, order and cooperation, and was and always will be fundamental to survival. Moreover, in our present circumstances, peace has become a necessity because we are facing global problems.
Contemplating various approaches to peace reveals just how complex and commonplace peace is. There are those who think peace can best be achieved through a government's all-encompassing imposition of order using military power as well as the arts, science and spiritual beliefs. Historically, Augustan Rome, Tokagawa Japan, Tito's Yugoslavia and Lee Kwan Yew's Singapore are examples of top-down imposition of order.
From the grassroots, courageous leaders such as Lech Walesa, Corazon Aquino, students and workers at Tien An Men square, Nelson Mandela and Gandhi mobilized people in massive nonviolence movements and, in doing so, became giants of the 20th century.
Another approach to peace would be following the sacred texts of the world's spiritual traditions all of which show a longing for peace. Through the wisdom in these texts and prayer and meditation, people develop inner peace.
Well, unlikely and amazing as it seems, nearly all of these approaches are represented at a place just outside of Boston called the Peace Abbey. Words can hardly adequately convey how impressive and magnificent this haven is. It combines and brings to life information about scores of artists, musicians, scientists, and spiritual leaders who have espoused peaceful beliefs and ideas which could order our lives.
This is not a controlling government's imposition of order, but rather it is the ideas themselves which are powerful and which express the hopes and dreams of humankind.
Founded by Lewis Randa in Sherborn 25 years ago, the Peace Abbey includes a peace museum, an animal sanctuary, a memorial to civilians killed in war and a school for children with disabilities. The pastoral grounds have a 9-foot bronze statue of Gandhi which rises up surrounded by walls with plaques commemorating scores of famous peacemakers from Martin Luther King Jr., to Rumi, to John Lennon. A Courage of Conscience award is given every year to such acclaimed peacemakers as Mother Teresa, Thich Nhat Hanh, Daniel Berrigan, Maya Angelou and Muhammad Ali, all of whom have spoken at the abbey.
Salem State University Peace Institute is proud to be giving our Champion of Peace award this year to Lewis Randa at a ceremony on International Day of Peace. With determination and creativity, he is doing more than his share to further moral progress in our times.
Professor Hope Benne teaches world history, and Professor Van Pham teaches economics at Salem State University. Both are members of the Salem State University Peace Institute.